The calendar has flipped to November and true football season is upon us. 
The Big Ten will inevitably see a snow game shortly as the ability to establish a running game will become of the utmost importance.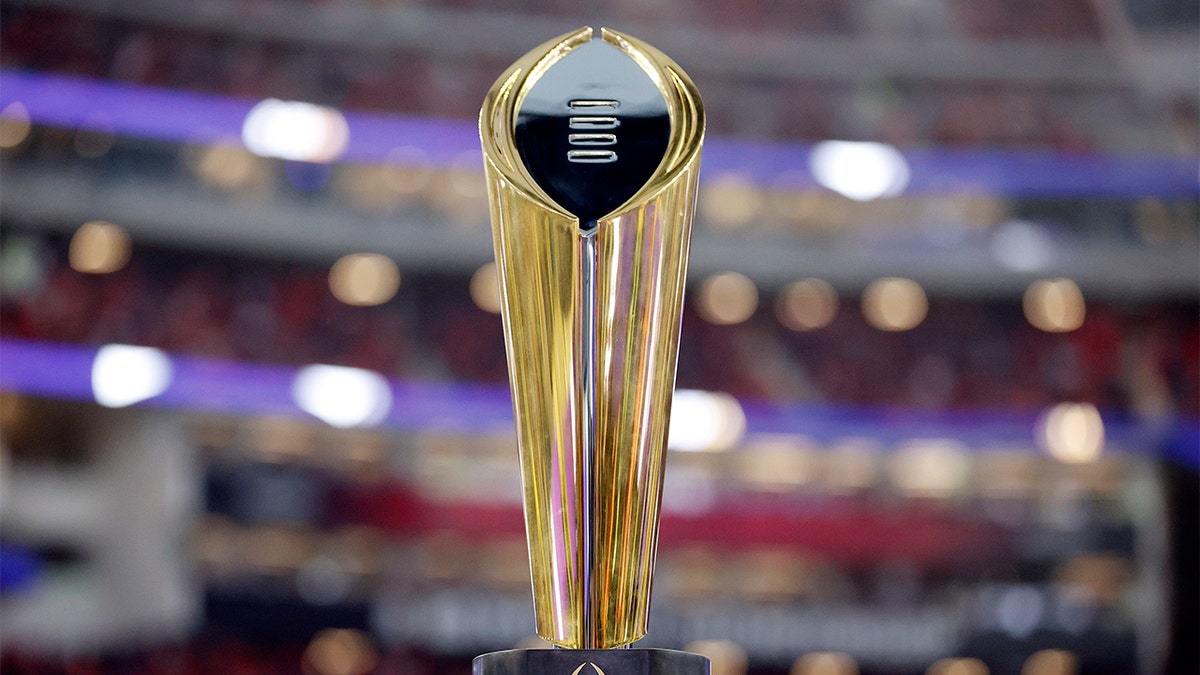 With the colder weather comes the first College Football Playoff ranking as the last year of the four-team playoff creeps ever closer. 
Ohio State is the No. 1 team in the country followed by Georgia, Michigan and Florida State. 
OHIO STATE GETS NO. 1 SPOT OVER GEORGIA IN SURPRISING FIRST CFP RANKINGS OF YEAR
Losses late in the year will doom the national championship hopes of many teams while rivalry games will determine who gets to play in the CFP. 
It is the best time of the year, so let's take a look at a few games to be aware of in Week 10 of the college football season. 
No. 7 Texas vs No. 23 Kansas State – Noon ET
The Longhorns received a boost last week when unranked Kansas upset the Oklahoma Sooners, creating a logjam at the top of the Big 12 conference. 
There is now a five-way tie atop the Big 12 as Texas, Oklahoma, Kansas State, Oklahoma State and Iowa State are all 4-1 in the conference. 
Week 10 should provide some clarity in the Big 12 as Texas and Kansas State square off, and Oklahoma and Oklahoma State play their "Bedlam" series for the last time in the conference before the Sooners head to the SEC in 2024. 
The Longhorns will start Maalik Murphy at quarterback for the second straight game as Quinn Ewers continues to deal with a shoulder sprain. Against BYU in Week 9, Murphy was 16-25 for 170 yards, two touchdowns and an interception. 
COLORADO PLAYERS HAD VALUABLES WORTH THOUSANDS STOLEN FROM LOCKER ROOM DURING GAME VS UCLA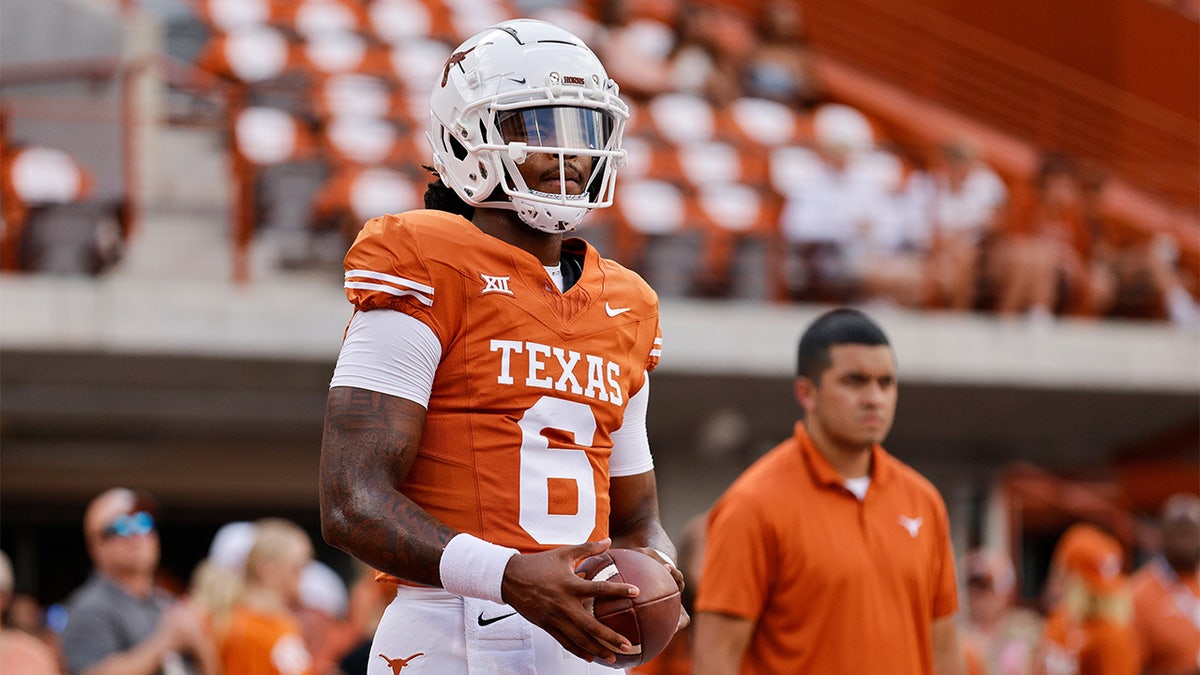 The Kansas State defense, ranked third in the Big 12 right behind Texas in yards allowed per game, will be tasked with stopping an offense that has averaged 34.5 points per game. 
The Wildcat defense has not allowed a touchdown over the last nine quarters. 
"We're playing at an elite level, which is what we've been trying to achieve the whole year," Wildcats defensive end Nate Matlack said. "It feels good to be playing at this level, shutting guys out or holding them to one score. That's the goal."
Kansas State's offense is fourth in the conference in yards per game (464.4) and second in points (37.4). 
Texas needs to avoid a second loss in order to keep its CFP hopes alive. 
No. 2 Georgia vs No. 12 Missouri – 3:30 p.m. ET
Kirby Smart has his team playing its best football at the right time as the schedule finally reaches a difficult stretch. 
After Missouri visits Athens, the Bulldogs will face two more top 25 opponents in Ole Miss and Tennessee. However, the 7-1 Tigers come first as Missouri is seeking its first win over a No. 1-ranked team in program history.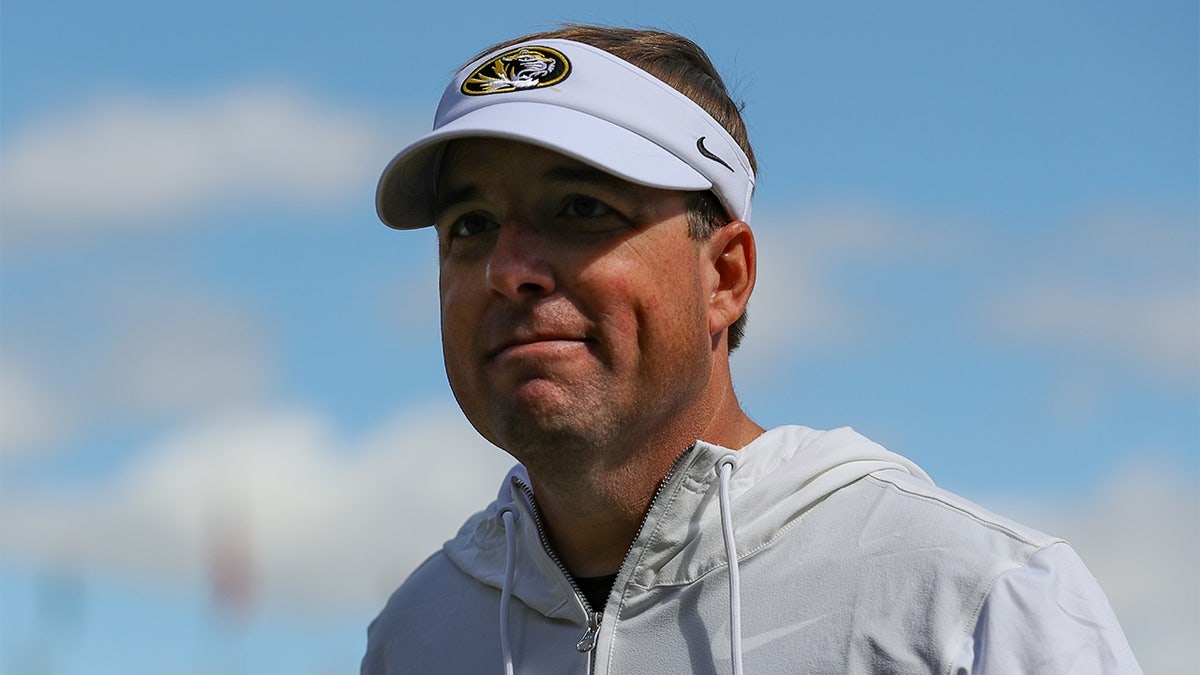 Missouri head coach Eli Drinkwitz is trying to get his team to block out the outside noise. 
TOLEDO ROCKETS FANS BRAVE THE COLD FOR DUNK TANK CELEBRATION
"(Regardless) of the outcome of the game, the job of the media and social media is to create narratives. Our job is to ignore them and try to be 1-0," Drinkwitz said, according to The Kansas City Star. "And, you know, what's at stake in this game is no different than what was at stake when we played at Vandy, at Kentucky, at home versus South Carolina. If you don't play well in those games or you lose those games, then you lose any other opportunities."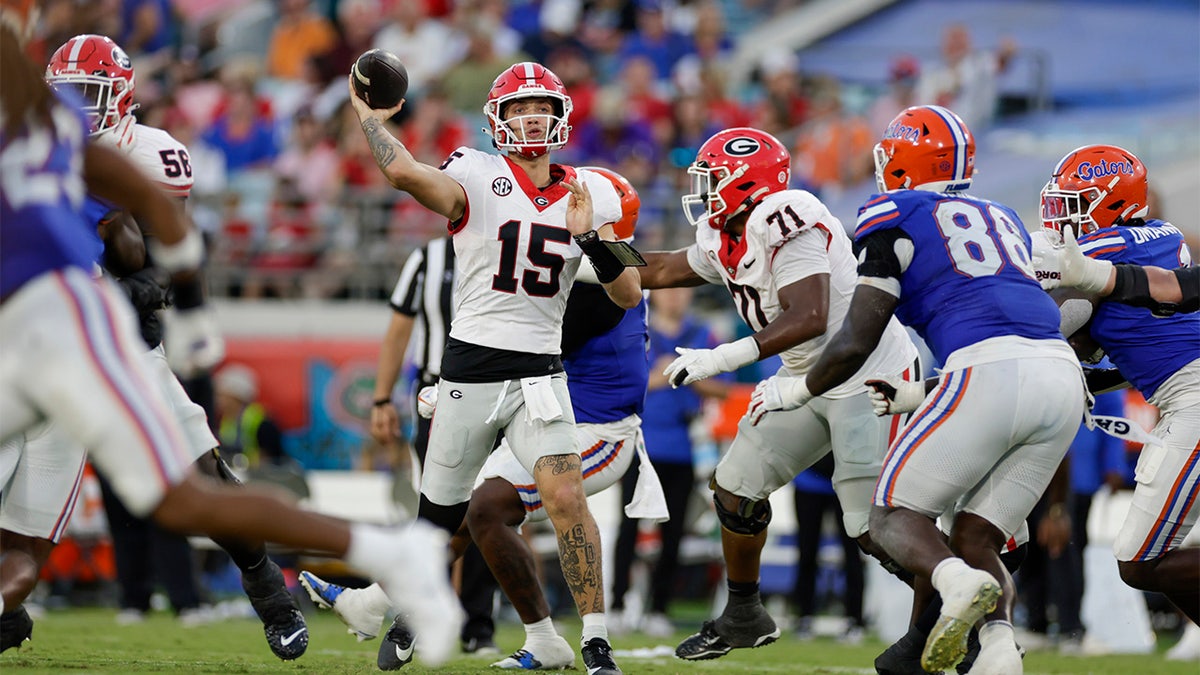 The Missouri defense has held its last two opponents – Kentucky and South Carolina – to under 300 total yards as they prepare for a Georgia offense averaging 506.5 yards per game. 
Junior quarterback Carson Beck has thrown 11 touchdowns and three interceptions in the past five games as the Bulldogs' winning streak has grown to 25. 
"I think Coach Smart and his staff have done probably the best job they've done since they've been there to be in the situation that they're in currently," Drinkwitz said.
No. 22 Oklahoma State vs No. 9 Oklahoma – 3:30 p.m. ET
The last game of the Bedlam series in the Big 12 has major implications for the CFP hopes of the conference. With Oklahoma heading to the SEC in 2024, the rivalry between the two in-state schools appears to be coming to an end. 
The rivalry, known as Bedlam, dates back to 1914, and the 2023 matchup is the final-scheduled game between the two schools for the foreseeable future. 
"When Oklahoma decided to leave the Big 12 they chose to end Bedlam. It's a one-sided deal. People we're trying to decide what happened and what needs to happen to make it go on. They kept pushing Oklahoma State into it. We didn't have jack to do with that," Oklahoma State head coach Mike Gundy told Action Network in July. "They left the conference, Bedlam goes with it."
LOU HOLTZ SLAMS MICHIGAN FOOTBALL SIGN-STEALING SCANDAL: 'I FIND IT DEPLORABLE'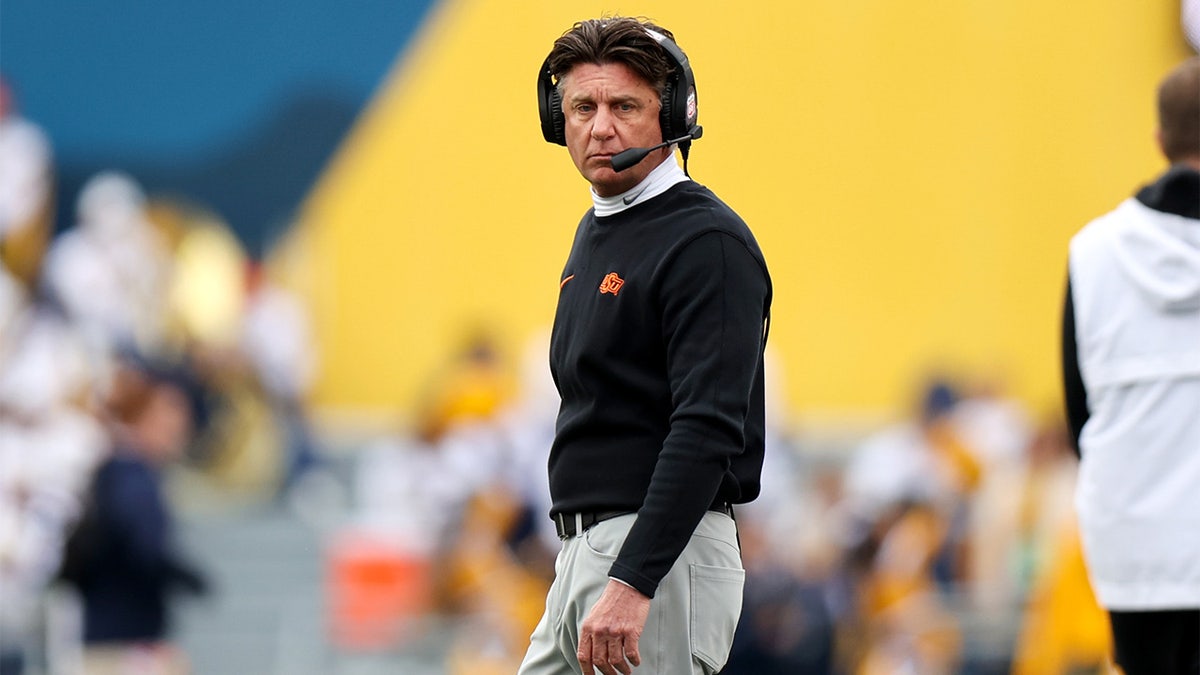 Gundy and his Cowboys have a chance to end Oklahoma's CFP hopes as the Sooners are looking to avoid a second consecutive loss. 
Oklahoma has won 17 of the last 20 meetings between the two programs, but Oklahoma State comes in winners of four straight. 
"Not really because it's the next game," Oklahoma head coach Brent Venables said of the last matchup between the two schools as Big 12 members, according to On3. "It's Oklahoma State. It doesn't feel weird because you're not into the future."
Oklahoma State running back Ollie Gordon II leads the country in rushing yards (1,087). 
No. 20 USC vs No. 5 Washington – 7:30 p.m. ET
Expect offensive fireworks in Los Angeles as two of the nation's top offenses square off. 
USC quarterback Caleb Williams, the reigning Heisman Trophy winner, and Washington's Michael Penix Jr., the current favorite to win the 2023 award, will duke it out as the Trojans look to avoid a third loss and Washington tries to remain undefeated.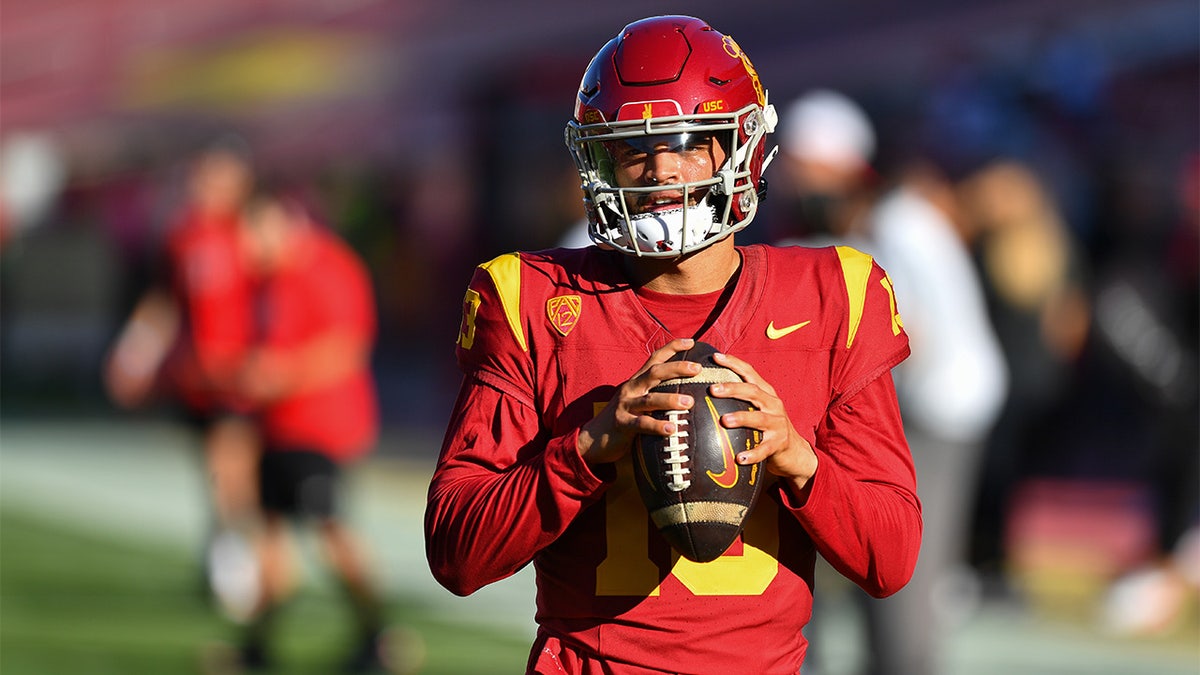 Both teams rank in the top 10 in scoring per game with offenses that depend on the brilliant passing of the quarterbacks. 
Penix Jr. has his Huskies 8-0 for the first time since 2016 as they face a USC defense that has struggled to get stops. In the last five games, the Trojans defense has allowed 41, 41, 48, 34 and 49 points. 
CLICK HERE FOR MORE SPORTS COVERAGE ON FOXNEWS.COM
Washington has struggled itself in back-to-back games, failing to score an offensive touchdown against Arizona State and allowing 33 points to Stanford.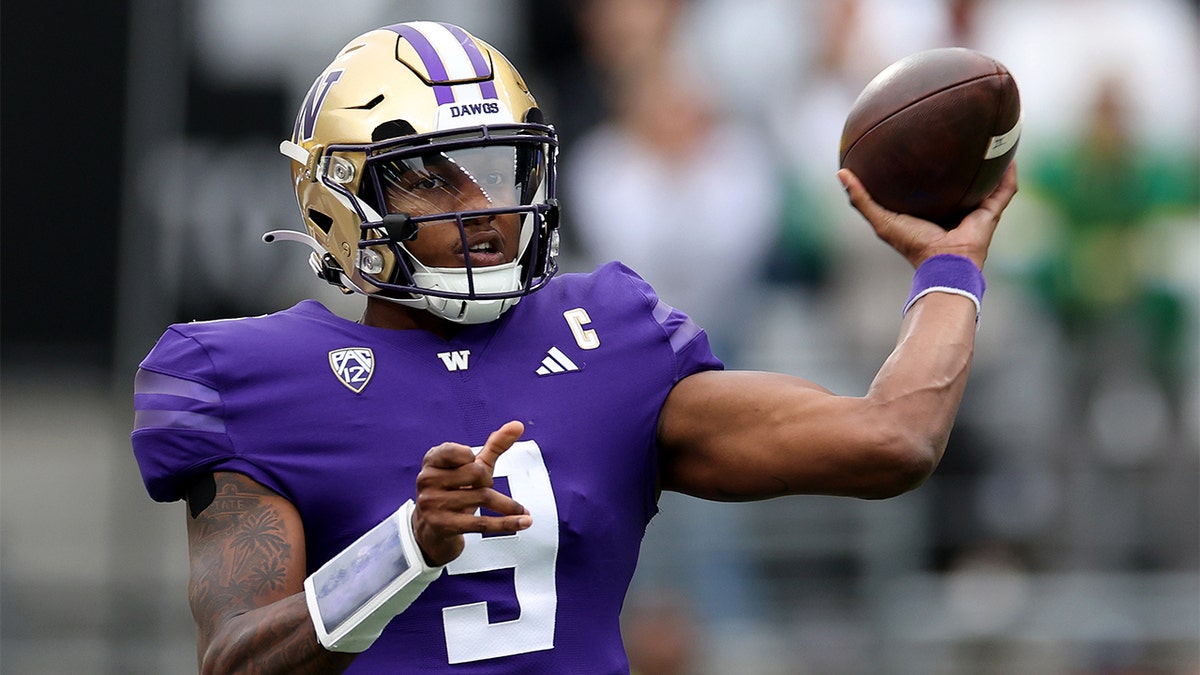 The USC matchup is the first of three straight games against top-20 teams for the Huskies as they attempt to get to the CFP for the second time in program history. 
For Lincoln Riley and the Trojans, the margin for error is gone but a Pac-12 Championship Game appearance is very much alive. 
No. 8 Alabama vs No. 14 LSU – 7:45 p.m. ET
The nightcap of the Week 10 slate takes fans to Tuscaloosa, Alabama, one year after Brian Kelly and his Tigers took down Nick Saban and the Crimson Tide in Baton Rouge, Louisiana. 
The Tigers ended any hope that Alabama would reach the CFP in 2022 and Saban and company are looking to return the favor. 
LSU has two losses – one in the SEC – while the Crimson Tide are looking to solidify their hold at the top of the SEC West while keeping their playoff hopes alive. 
CLICK HERE TO GET THE FOX NEWS APP
LSU's offense is the best in the country – 552.9 yards and 47. 4 yards per game – and they have had to be with a defense ranked near the bottom of the SEC.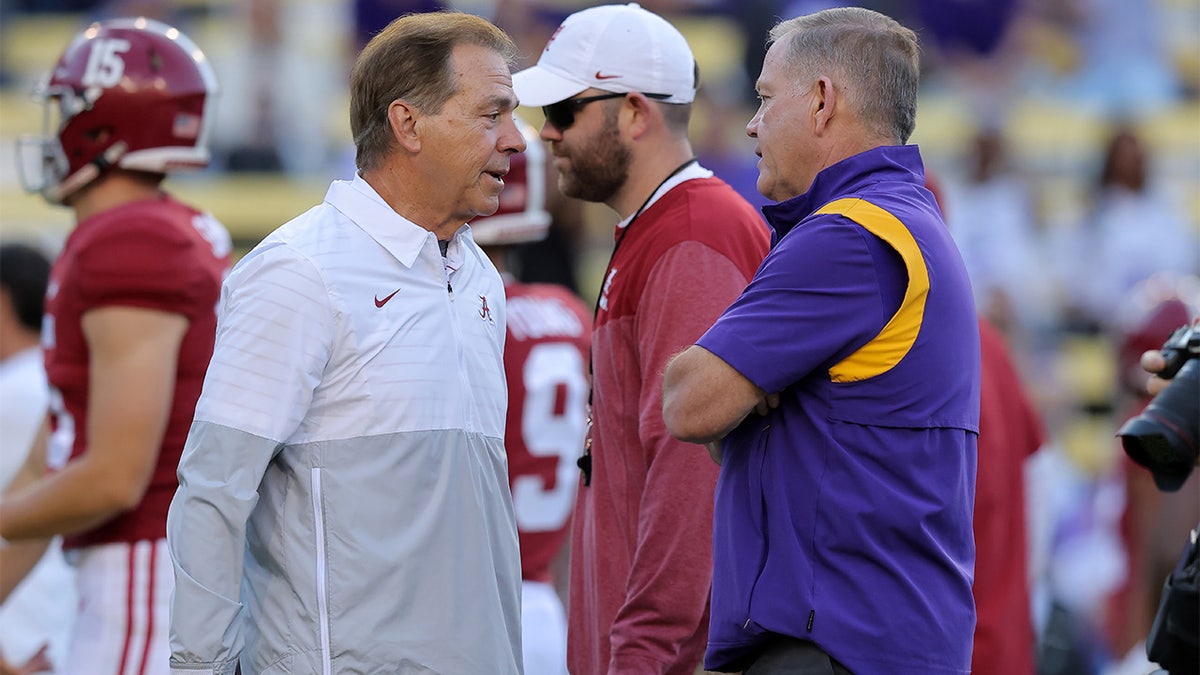 Alabama's defense will need to find a way to slow down Heisman hopeful Jayden Daniels as their offense falls well short of LSU's output (30.6 points per game.)
"He killed us last year. He was a really really good player last year, and he's a really really good player now," Saban said Monday of Daniels, per NOLA.com "I think overall they execute their offense to perfection, and it starts with him because he makes the right reads relative to runs and passes, zone option plays and pass-down plays. 
"He's very good at reading coverages, makes really quick decisions. All those things were evident last year by the way he played. I think he's even better now because he has more knowledge and experience in the offense, and they have real good players around him."
Alabama and LSU have split the last four matchups. 
The Associated Press contributed to this report